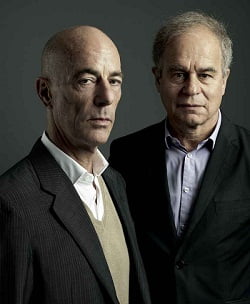 Jacques Herzog y Pierre de Meuron son dos arquitectos suizos conocidos por la construcción  innovadora utilizando materiales y técnicas modernas.Casualmente ambos nacieron el mismo año y asistieron a la misma escuela (el Swiss Federal Institute of Technology) y en 1978 se asociaron y crearon el estudio Herzog & de Meuron. En 2001, fueron elegidos para compartir el prestigioso Premio Pritzker.
Entre algunas de sus obras se destacan:
2010: complejo de casas Vitrahaus (Alemania)
2008: Estadio Nacional de Beijing (China)
2008: Caixa Forum (Madrid, España)
2004: Estadio de Fútbol Allianz Arena (Munich, Alemania)
2004: Barcelona Forum (Barcelona, España)
2002: Centro Laban (Londres, Reino Unido)
1999-2000: Edificio de apartamentos, Rue des Suisses (Paris, Francia)
1998-2000 Instituto de Investigación de Roche Pharma / Building 41 (Hoffmann-La Roche, Basel, Suiza)
Museo Nacional de Arte Moderno (Tate Modern) (Londres, Bankside, Reino Unido)
1998-1999 Central Signal Tower (Basel, Switzerland)
1998 Ricola Marketing Building (Laufen, Switzerland)
1996-1998 Dominus Winery (Yountville, California, USA)
1993 Ricola-Euope SA Production and Storage Building (Mulhouse-Brunstatt, France)
1989-1991 Ricola Factory Addition and Glazed Canopy (Laufen, Switzerland)
Referencias, créditos & citaciones APA:
www.arkiplus.com. Portal especializado en temas de arquitectura, construcción, paisajismo y arte con más de 2300 artículos publicados a la fecha. Título del artículo:
"Jacques Herzog y Pierre de Meuron. Arquitectos".
Fecha de publicación: . Autoría del artículo: Equipo de redactores de Arkiplus.com. Consultado el 25/06/2022, desde la url:
https://www.arkiplus.com/jacques-herzog-y-pierre-de-meuron-arquitectos/